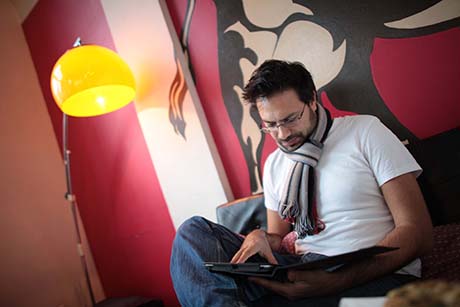 We first stumbled across The Pigeonhole and their revolutionary way of approaching reading when they joined us for our Publishing Tech dinner with DC Thomson Ventures (read the #AfterDinnerRoundup here) last month. We were so excited to get the chance to hear from their founder, Jacob Cockcroft, to discover how The Pigeonhole is changing the publishing world. Join Jacob for dinner next week when he dines with Alex Dunsdon from Saatchinvest, in the mean time, have a gander at his #BusinessSpotlight:
What's the elevator pitch for your business?
We are the book club in your pocket. Join members of our community or set up a private group and read the hottest books in bite-sized instalments.
What were you doing before you launched your company?
I worked in the intelligence world, advising companies doing business in the Middle East and Africa.
If you have co-founders, where did you meet them?
I have one, Anna, our editorial guru. We met at a party – and ended up talking about The Master and Margarita until 3 in the morning. It all started from there.
What's your biggest 'hindsight' moment?
Hindsight is futile. We are all at a place in our lives because of innumerable circumstances, and we generally choose the best possible path we can envisage at that time. You can never re-create a moment, so dwelling on what might have been is pointless.
What will the rest of 2016 bring?
Now that we've built the full version of the platform, the challenge is to grow the user base to 100K and build out our revenue streams.

One piece of advice for someone starting a business in your sector?
Don't underestimate how challenging building the tech is. Some might imagine a reading app like ours would be easy to build – it isn't!
Convince someone to use your product/service in under 50 words.
Love books, but have no time? Let us cherry-pick the finest content for you and deliver it in easy, bite-sized daily instalments.
Love reading, but feel disconnected? Join our community, and the author, as we read exclusive content from top publishers.
What's your favourite startup in your sector (not including your own)?
Wattpad
What's your favourite London restaurant?
Veeraswamy
What's your favourite meal?
Zanzibari fish curry

Find more of our #BusinessSpotlights here. If you'd like your business featured on our blog, email hello@tablecrowd.com with the subject title: I want to be a #BusinessSpotlight!